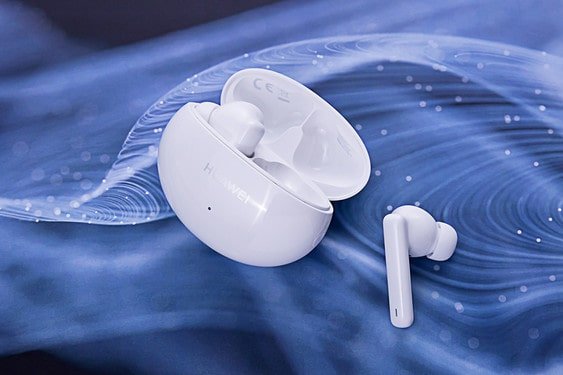 HUAWEI FreeBuds 4i with a premium design, active noise cancelling system​, 10H contionus playback, pure audio and more.
Costing less than what came before, some corners had to be cut with these wireless earphones. But the overall package? Very impressive. These in-ear buds actually have more to offer than you'd expect at the price point. For more about them, check out our review of the Huawei FreeBuds 4i.
BETTER-LOOKING, NICE-FITTING
The Huawei FreeBuds 4i aren't the most compact TWS earphones around, especially with their plastic charging case prioritizing battery life over a handier, smaller footprint. And that's okay. These earbuds are generally easy to travel with and can fit most small purses and jeans pockets without leaving a highly noticeable bulge.
In terms of looks, the charging case has eschewed the long, candybar form factor of last year's FreeBuds 3i in favor of a more rounded, pebble-like design that fits in the hand nicely. It shuts securely, and we never found the earphones falling out of the case opening up accidentally.
The buds got a facelift, too, and now have shorter but thicker stems that are easier to pick up and hold. They have strong magnets at the tip of their stems, so you don't need to worry about them sliding out and dropping onto the floor. Each bud has a touch sensor for audio-playback controls and cycling through Noise Cancelling, Off, and Awareness modes.
You still get rubber tips for improved comfort and fit. The silicone also provides some passive noise cancellation once the earbuds are snugly in place. Huawei ships different-sized rubber tips in the retail box, so most users should be able to find a secure fit.
The pair button is located on the right side of the case. A long press puts the Huawei FreeBuds 4i into pairing mode. At the bottom, you'll find a USB-C port for convenient top-ups. A USB-C cable will be included in the retail package, but not a power adapter, as is typical for the category.
WILL THE HUAWEI FREEBUDS 4I PAIR WITH MY DEVICE?
Before diving into audio performance, let's discuss pairing and Huawei's AI Life application, which you'll need to install first on your Android device to take advantage of all the features the FreeBuds 4i offer. These buds support Bluetooth 5.2 and can be connected to any Bluetooth-enabled device. You can pair them with your iPhone or laptop as you would a set of generic wireless earphones.
The wireless connection was stable and never missed a beat throughout our testing across different devices on different platforms. However, take note that the Huawei FreeBuds 4i doesn't support Bluetooth multipoint, which lets you connect two devices at once. They will only sync with one gadget at a time. But they will connect automatically once you open the case and a nearby paired device's Bluetooth is switched on.
AI Life is available on the Google Play Store and Huawei's own AppGallery app storefront. However, the app on the Play Store is outdated and hasn't been updated in almost a year, so you might run into trouble pairing your phone with the FreeBuds 4i; initially, ours didn't show up on the app.
Naturally, the solution is to download AI Life from AppGallery if you own a Huawei device, or scan the QR code on the retail box for a link to the software. Once installed, you should be able to connect your FreeBuds 4i to the app to check the battery levels of each earphone as well as the charging case. You can likewise customize the buds' touch controls, in case you want to assign a different set of shortcuts for each bud.
The AI Life app doesn't come with its own equalizer; you'll need to use the one preloaded on your device, or use a media player that includes equalizer-adjustment options like Huawei Music. The music-streaming app actually has settings for the FreeBuds 4i and other Huawei audio products.
Out of the box, the double-tap and long-press gestures are assigned to play/pause and mode select (Noise Cancelling, Off, or Awareness), respectively. Off is the default setting here, which means you'll need to long-press one of the buds or open AI Life on your device to activate noise cancellation or Awareness mode.
ANC AND AUDIO QUALITY
The Huawei FreeBuds 4i's active-noise-cancellation feature works by analyzing the noise in your environment through the microphones on each earphone, producing a waveform of the said noise, and then creating the anti-noise to cancel out unwanted sound waves. This feature works best with constant, low-frequency sound, such as the hum of a fan at lower speeds and the noise of a gas engine running.
Having said that, the ANC on the FreeBuds 4i works hard to neutralize background sound, and, more often than not, manages to do so reasonably well. During our test, the earbuds did a consistently commendable good job of detecting ambient noise and reducing it significantly. It helps that the in-ear design and silicone tips provide a tight seal around your ear to bolster the quieting effect. If you don't own any premium headphones with active noise cancellation, you would likely be impressed by how well these buds can drown out distractions around you.
Inside, the Huawei FreeBuds 4i boast 10mm, dynamic-coil drivers, along with what Huawei calls "sensitive polymer-composing diaphragms." Basically, this means their internals incorporate a material that will help the earphones deliver higher-quality audio than the competition.
In practice, we found that claim to be close to the mark. These buds sound great for the price. As a daily driver, they can fill most needs. They can get loud and bassy when they want to; the sound performance is punchy yet balanced when streaming Huawei Music or Spotify; the vocals are clear and don't faint at higher volume levels; and the treble is good, too. Also important: The latency isn't as bad as other wireless earphones when gaming.
BATTERY LIFE
The earbuds have a 55mAh battery each, while the case packs a 215mAh cell. Huawei says they're capable of providing up to 10 hours of continuous playback at 50% volume with noise cancellation disabled. That claim is surprisingly close to accurate, meaning the battery life is great.
We got around six hours on average switching between Noise Cancelling and Awareness modes at 70% volume. We went through two days of on-and-off use before we needed to recharge the earphones and the charging case. Fully recharging the earbuds takes about 30 minutes, which is quite impressive, while filling up the buds plus the case takes longer — usually an hour. Unfortunately, wireless charging is not an option here, but that's to be expected given the price.
The Huawei FreeBuds 4i are easy to recommend to anyone looking for an affordable pair of earbuds with noise-cancelling and transparency features. The FreeBuds 4i should be on your shortlist if you're rocking an Android device. Very few products on the market can match what these TWS earphones are capable of at the price they're going for.